Health energy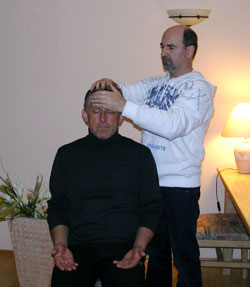 Attention! To use my help does not exempt from the constant and strict consultation with the doctor. Only doctor can decide about taking drugs and eventual treatment.
Treatment by energy does not cause any side effects, does not disturb any other treatment method and does not clash with medications. We may apply one and another at the same time.
The most important is the patient's interest.
My therapy relies on:
- purifying the air
- counterbalancing the energy field
- elimination of blockades in chakras and meridianas
- filling in the energy in chakras and medidianas
- treatment of nadis between chakras
- filling in energy in the side chakras.
I am member of the German Association of Healers and I am obliged to observe the moral code of the association, which forbids to its members among others to use with advertising purposes for example articles from newspapers or letters from grateful patients.
You may get in touch with me by telephone, home visits are also possible or at the hospital.
See you
Marek Schmidt